Foam Fabrication
Pack4 fabricates many types of foam into custom packaging for customer-specific parts and equipment. Our services include design and engineering, die cutting, laminating, sheeting and assembly. We focus on reducing material and labor costs, while making certain our customers' products are well-protected.
Polyethylene, polyurethane and specialty foams
Foam design and engineering
Die cutting, laminating, sheeting and assembly
CUSTOM FOAM INSERTS
Custom foam inserts are highly protective and economical, so they are a great way to ship products in a custom or stock carton. Whether die cut, saw cut, water jet cut or hand cut, we can produce even the most complex inner packaging to protect your product. Our design and engineering team is trained on state of the art CAD software to create the optimal foam packaging solution for your product.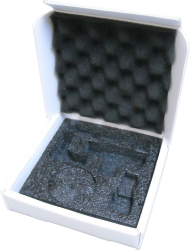 ---
POLYETHYLENE FOAM
---
POLYURETHANE FOAM